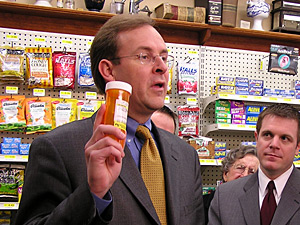 … this is a "family .org" so I won't start off with the greeting I used every time I had to call VanHecke when he was overseeing House Campaigns in 2004, but in short, why does this not suprise me? And I'll readily admit I'd sent an email to them both to resign, quit, withdraw, whatever they want to call it, just give it up now before they do more damage. They both get a couple points for doing the right thing… finally… That and $0.50… The good news is that after watching Steve Kelley rip Excelsior for their Mesaba bait and switch, hey, I'll vote for him! He's got class, and a deadly aim! To listen, go HERE and scroll down to March 20 Jobs, Energy & Community Development.
Lots is happening on Mesaba, Comments were due today, requested by the Public Utilities Commission because it wants to assure costs are properly considered in all its decisions regarding this project, and it's specifically looking at amending a prior Order when it shipped the case off to the Office of Administrative Hearings. What does that mean? It means we're making progress. How? How much??? GRRRRRRRRRRR… I'm gonna take a few and see if I can figure out this upload routine and upload it all for you to read and chuckle about. This is just too funny!
OK, now I've got the photo upload from the web figured out, but what about PDFs???
aaaaaaaaaaaaaaargh!